Book Review
Just Mercy: A Story of Justice and Redemption, By Bryan Stevenson.
Book Review Submitted by Jenn Albanese
New York: Spiegel & Grau, an imprint of Random House, 2014.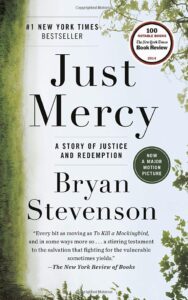 The men in Just Mercy are difficult for the reader to leave behind. A memoir written by attorney and founder of the Equal Justice Initiative, Bryan Stevenson, Just Mercy tells the stories of men left behind in one of the most hopeless of places: death row. Most of Stevenson's work is conducted in the state of Alabama, which has the highest rate of death penalty sentencing in the country. In his fight to serve men facing execution, Stevenson encounters corruption, abuse, and legal decisions made in response to pride and fear.
Stevenson introduces the reader to Walter McMillian, a young, "town character" type of man, well known in the community, and with a large family, who is sentenced to die. He is on death row despite evidence proving he could not have committed the murder of which he is convicted. Stevenson, a Harvard Law graduate, takes the case, immersing himself in McMillian's world, and challenges Alabama law officials, despite great personal and professional risk. The characters developed and the legal obstacles described in this memoir, make the work read like a legal thriller, and the reminder that these are real people, living in our own recent history, can be startling.
The story of Walter McMillian arrives early in the career of Bryan Stevenson. Stevenson and EJI are responsible for the reversal, relief, or release, of over 125 wrongly condemned on death row. Stevenson's work also focuses on poverty relief and in fighting discrimination in the criminal justice system.