Book Review
Norris, Zach. We Keep Us Safe: Building Secure, Just, and Inclusive Communities. By Zach Norris.
Boston: Beacon Press, 2020.
Book Review Submitted by Jenn Albanese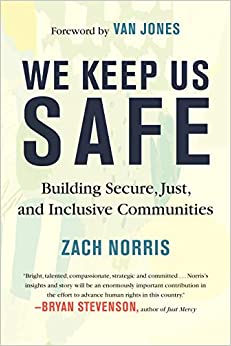 In We Keep Us Safe, Zach Norris asks the reader to take a close look at the punishment paradigm he sees as the governing model for the criminal justice system (he prefers the term criminal legal system) in the United States. A punishment response is supported by creating an environment of fear. Fear assigns the role of "other" to people outside our immediate communities, and can lead to scapegoating and dehumanization.
Norris describes how our current approach to public safety focuses on crime, rather than harm. A crime perspective asks questions like "What law was broken?" and "Who did it?" rather than "Who was harmed?" When we shift our perspective towards considering harm, we will find harm in many places (institutional, governmental, societal, in addition to individual harms). A harm perspective focuses on restorations for hurts, and can have a higher level of accountability – the person who has caused harm remains in community to face the impact of his or her misdeed. Restoring harm, rather than proving crime, also protects the harmed person from interrogation and bearing disbelief, experiences that can compound the trauma of the original harm.
Norris envisions public safety as a much greater possibility when all members of communities are invited to participate. For fuller participation, he suggests we work to eradicate underlying sources of harm and fear: deprivation, suspicion, and isolation. Norris incorporates vignettes from different points in history, and representing a variety of marginalized groups. These vignettes put a face on societal harm and provide tangible examples of the ideas Norris explores. At times, the reader is asked to suspend his or her need to find the connections between the stories Norris highlights, but ultimately there are central tenets that emerge and become a call to action. Zach Norris is the Executive Director of the Ella Baker Center for Human Rights.