Book Review
Life and Death in Rikers Island, by Homer Venters
Whitney Mooney, CPO Volunteer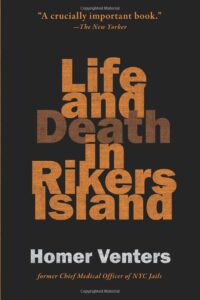 The selection of Life and Death in Rikers Island is important and timely as we are in the midst of alarmingly high COVID-19 rates across the country, especially in prisons. According to the Marshall Project, 1 in 5 Prisoners in the United States has had COVID-19 and more than 1,700 have died in the last year. Homer Venters, the former chief medical officer and assistant commissioner of Correctional Health Services in the NYC Health and Hospital System, exposes the multi-layer system of abuse, neglect, and health concerns in Rikers Prison. Venters brings along his expertise and extensive research to help us get to the root of the problem and solve these major issues plaguing prisons across the United States.
The book starts off with Carlos Mercado and Angel Ramirez, two individuals who died of preventable causes while at Rikers Prison. Both stories bring to light the lack of accountability for correctional officers who cause neglect and abuse. He continues to break down the ways in which correctional facilities fail to reach humane standards. Solitary confinement, physical punishment, other forms of control all lead to deterioration of mental health and lack of adequate care.
Talk with Homer Venters on "Life and Death in Rikers Island"
Venters also points to a multitude of solutions to these stark and life-threatening issues, one being the Program for Accelerated Clinical Effectiveness (PACE). PACE these units serve the severely vulnerable individuals in prison that need more structure and less punishment. These units lead to less deadly outcomes and lawsuits and all-around more humane living for the inmate.
In the end, Life and Death at Rikers drives home the extreme necessity to reduce the prison populations across our nation to prevent the quick spread of disease. In addition, it would help to reduce the inmate to staff ratio and allow for more time to train guards, give them the tools they need to rehab inmates rather than furthering their trauma.